Antioch All Church Picnic & Swim
Sunday, July 4 (after service) 
Join us for our next all church picnic on Sunday, July 4, immediately following our Sunday service!  Pack a lunch and bring your swim suit (if you'd like to swim) and join us in the Aguilar's backyard for a church picnic.  Bring a friend and we will see you there!  Email us for the address.
Antioch Summer Lifegroups
Various Days (July - August)
Summer Lifegroups are swinging into action!  You are invited to join any of our groups any evening you are able over the summer.  Email our Lifegroup leaders for addresses (many groups are rotating locations for the summer months).
Monday Nights 7 PM in Quincy - Email Alex Moger for location and details
Tuesday Nights 6:30 PM in Weymouth - Email Chris Bucchianeri for location and details
Thursday Nights 6:30 PM in Milton - Email Lori Goode for location and details (this group is hosting weekly potluck dinners and meeting primarily for connection and fellowship during the summer)
Antioch Summer Prayer
Saturdays, June 5 - September 
We believe God hears our prayers and that prayer changes things!  Join us on Wednesday nights as we gather to pray together.  We meet at 7:30pm in Quincy.  We hope to see you there! (Email us for address)
Antioch Summer Co-Ed Softball
Saturdays, June 5 - September 
Summer softball season is almost here!  If you are interested in playing on our co-ed church softball team this summer, email Alex Moger to express interest!  Games are played on Saturdays and the season begins on June 5 running through September.  Let's play ball Antioch!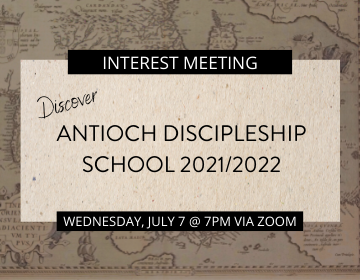 Antioch Discipleship School Interest Meeting
Wednesday, July 7, 7 - 8:30 PM via Zoom
ADS INTEREST MEETING Coming up! Are you curious about the Antioch discipleship school? Are you considering applying or just have questions? Join our interest meeting and get your questions answered. ADS combines spiritual formation and accountability to help the church BE the church. Is this your year?
Antioch Family Camp 2021
July 11 - 16 OR July 18 - 23
Join us for a week of family camp which includes daily worship, adult and children's programs, prayer, deliciously cooked meals, God's creation in nature, kayaking, canoeing, swimming, hiking, blueberry picking, basketball, rock climbing wall, ping pong, foosball, children's playground, activities and games, devotions, scripture teaching, campfires, etc.
Stay updated on any changes in our COVID-response! We send out weekly updates about ways we're meeting together, how to get involved and connect with others. Note: we will never forward your information to third parties, and you can unsubscribe easily at any time.