R & R Regional Gathering
Friday, December 1 - Saturday, December 2
Revival and Reformation exists to equip young adults in and through the local church to catalyze revival and contend for reformation. Join us December 1-2 for the Revival & Reformation Regional Gathering, where young adults across the Antioch Movement are invited to gather, worship, intercede for our generation, and be empowered as sent ones in our workplaces & spheres of influence.
Location:  Antioch Waltham | 17 Spruce St, Waltham
Cost:  $60 per person (includes lunch on Saturday)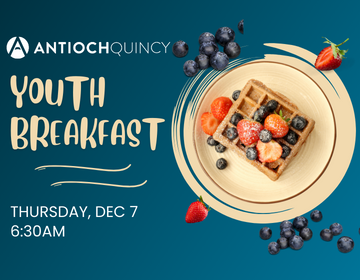 Quincy Youth Breakfast
Thursday, December 7, 6:30AM
Middle School and High School students we invite you to join us for breakfast and prayer before you start your school day!  We will help arrange rides to school afterwards so email us and let us know if you are able to attend!
Foster Family Christmas Party
Saturday, December 9, 12:30 - 2:30PM
On Saturday December 9th, 7 local churches through The Forgotten Initiative will be hosting the Christmas party for the children and foster parents of the ten south shore towns represented by the Coastal Area DCF Office at First Presbyterian Church of Quincy. There is a need for 15 Antioch Quincy volunteers to be at the party from 12:30-2:30, to help transition the space from dining to activities, and to assist with clean up after it ends.  Please let us know if you are able to attend by signing up!
Women's Christmas Brunch
Saturday, December 16, 10AM - 12PM
Join us for a women's brunch on the morning of December 16.  Bring a brunch item to share and yourselves and we will enjoy a morning of delicious food and fun!
Sign up
to bring a dish to share and for more details
World Mandate 2024
Friday, February 9 - Saturday, February 10
World Mandate is a weekend conference for everyday people:  students, parents, teachers, professionals, artists and missionaries from all over the world who believe we can see the Kingdom of God established on earth in our generation by worshiping God and living on mission in every sphere of society.
Location:  Antioch Waltham | 17 Spruce St, Waltham
Cost:  $50 Early Bird Registration (now through Jan 14) and $65 thereafter
$35 for Youth (High School age and younger)
Stay updated on any changes in our COVID-response! We send out weekly updates about ways we're meeting together, how to get involved and connect with others. Note: we will never forward your information to third parties, and you can unsubscribe easily at any time.